Bluetooth Smart lock Solution
Bluetooth door lock is a smart lock based on a low-power Bluetooth module and networked control through a mobile phone APP.
BLM World Limited's Bluetooth smart door lock solution has a built-in BLE module. It works with APP to read Bluetooth information of the smart lock, try to pair, and send an unlock request to the server. The server sends the unlock command to the mobile phone. The instruction is sent to the smart lock for unlocking. Implement user authority control, remote control, and message push in a non-contact way, and completely bid farewell to the embarrassment of being unable to enter the door such as traditional key unlocking, unclear fingerprint recognition, and easy to forget passwords.
Features:
Ultra-low power consumption: 4*AA batteries
Intelligent management: authority management, key sending, message push
Chip: Famous brand Bluetooth chip and MCU
Security Alert: Anti-theft push, low battery push
Unlocking method: Bluetooth APP unlocking, intelligent and non-inductive unlocking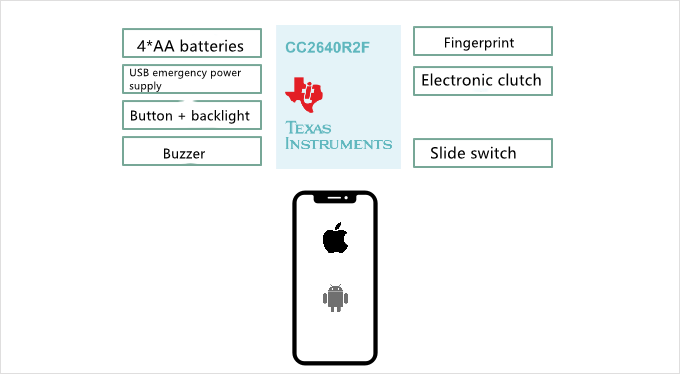 Chip is the heart and brain of smart lock, and this is the biggest difference compared to traditional locks. BLM World Limited's Bluetooth smart door lock solution adopts Bluetooth 4.2 protocol, a single CC2640R2F chip as the main control, integrated buzzer prompt, semiconductor fingerprint input module, touch keyboard, and DC motor drive. Through CC2640R2F Bluetooth connection lock, a series of functions such as mobile APP unlocking, close-range Bluetooth matching unlocking, and remote authorization of relatives and friends to unlock can be realized.
What is the unlocking method?
Conventional way
Bluetooth APP unlock: mobile phone Bluetooth APP control unlock, check the situation at home anytime, anywhere
Non-inductive unlocking: mobile phone APP turns on the sensor function, automatically unlocks when approaching, and automatically locks when you leave
Extension functions:
Fingerprint unlocking: 360-degree fingerprint recognition, high-precision fingerprint collection, unlock the door in seconds
Password unlocking: The virtual password has a high security level, anti-spy, low risk of leakage, and can greatly increase the security of the password
Key unlock: high-grade lock core, anti-saw, anti-violence and anti-collision
Actually, Bluetooth APP unlocking is much more convenient than other unlocking methods. After the mobile phone APP pairs the smart door lock via Bluetooth, it can complete one-key unlocking or induction unlocking. At the same time, it can monitor the door lock security, realize remote management, and play a major role in user identification and security. At the same time, BLM World Limited's Bluetooth smart lock solution can expand other smart unlocking modules through the control board, compatible with the function operation between different modules, and can provide a variety of keyless unlocking methods for family members.
It is worth mentioning that BLM World Limited's Bluetooth low energy module is very small in size, which adapts to the integration requirements of different lock companies. The upgrade and transformation of traditional locks is small, reduces the cost of transformation, and provides the best solution for the intelligent upgrade of locks.
R&D team of BLM World Limited has been committed to optimizing the smart lock management software, using mobile Internet technology and electronic information encryption and decryption and certification systems to solve the management problems of smart locks.
Cloud Management
Smart operation and maintenance: The housekeeper performs system upgrades and maintenance in the management background in a timely manner, and effectively controls the apartment housing management, tenant access management, security management, data management and resource docking.
Security linkage: Outsiders enter and exit the apartment at will, causing security risks. The housekeeper verifies tenant information based on face/fingerprint recognition in the management background to prevent theft and prying.
Support for emergencies: Tenant forgets to bring the key or access control when going out, fingerprint/password one-key unlocking enhances the tenant's check-in experience.
Quick door-to-door: Temporary password is issued to solve the difficulty of door-to-door appointments for cleaning and maintenance.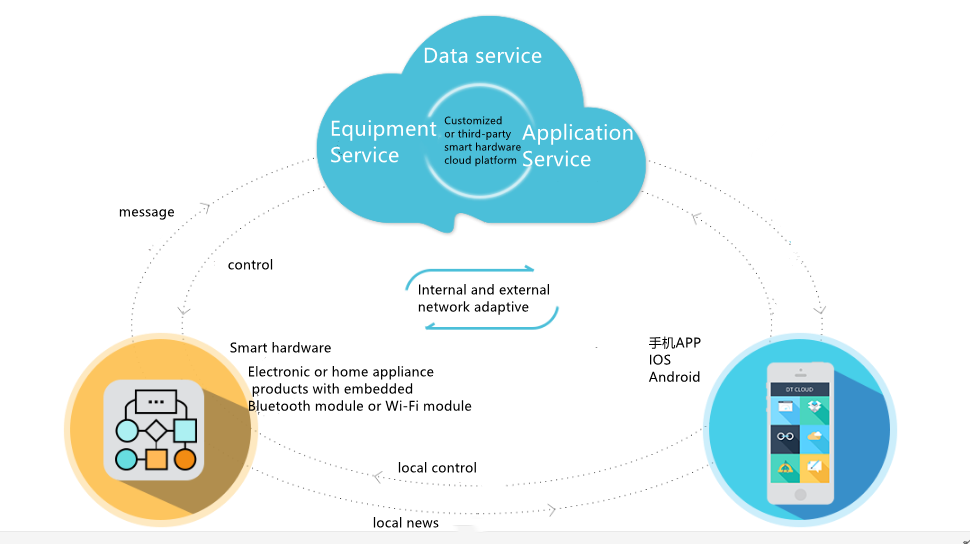 Principle description of BLM World Limited Bluetooth smart door lock solution:
The smart lock has a built-in BLE Bluetooth module. It works with the user's mobile phone to read the smart lock's Bluetooth information through the APP, tries to perform a Bluetooth pairing connection, and sends an unlock request to the server; the server sends an unlock command to the app installed in the user's mobile phone, and the user's mobile phone receives After receiving the command from the background management system, send the command to the smart lock via Bluetooth to unlock it. In this smart door lock solution, the user uses the mobile phone APP to complete the interaction with the Bluetooth smart lock management background through the mobile phone's Bluetooth to realize the unlocking function.
It can also be equipped with a multi-functional gateway to connect the water and electricity meters, lights, curtains, water heaters, smoke detectors, televisions, fresh air systems and other terminal equipment in the room to realize the co-connection of smart homes and provide a more intelligent and convenient experience.
What's advantages for BLM World Limited's smart lock solution?
1. Longer standby time: The Bluetooth smart locks on the market are basically powered by dry cell, and BLE module has ultra-low power consumption in broadcast, transmission, standby and sleep modes.
2. Mobile APP unlocking: In the era of mobile Internet, mobile APP unlocking is an important manifestation of smart lock intelligence. As long as the mobile APP is opened, it can be easily operated, and the problems that cannot be solved by traditional locks (such as distance) can be easily solved.
3. Check at any time: For people with obsessive-compulsive disorder who are always worried that the door is not locked, whether on the road or at the company, they can check the locked door anytime and anywhere through the mobile APP.
4. Cloud key sharing: Usually relatives, friends, intermediaries, etc., even if the owner is not present, they can share the one-time cloud key with each other.

BLM World Limited's low-power Bluetooth lock solution can realize a series of functions such as mobile APP unlocking, short-range Bluetooth matching unlocking, remote authorization of relatives and friends to unlock, etc.; it supports IOS 7.0 , Android 4.3 or higher version system; support wireless firmware upgrade, update the firmware at any time; support key function, sharing, backup.
What's application for smart lock?
Family: The intelligent control of the Bluetooth smart lock can provide a variety of keyless unlocking methods for family members, and promptly remind users when non-users break in to improve home security.
Hotel apartments: The Bluetooth smart lock allows you to check in through smart identification after check-in, without worrying about losing the room card key, which is convenient for multi-user management.
Floating population management: The floating population management plan is to replace the original ordinary door locks with card-swiping smart door locks. Users register for door cards with relevant documents, open the door with the card, and swipe the card must leave traces. One person, one card, people come to receive the card, and people sell the card, and grasp the dynamics of the floating population in real time.