How is Bluetooth gateway promoting IOT medical device development
After decades of development and iteration, Bluetooth has become an indispensable technology in our lives. With tens of billions of devices connected to the Internet of Things in the future, Bluetooth will also usher in greater development potential with the unparalleled low energy consumption advantages of other wireless technologies.

Before Bluetooth 4.0, people often used 1.0, 2.0, 3.0, 4.0 to distinguish Bluetooth versions, but now, everyone is more willing to use classic Bluetooth and low energy BLE to distinguish different Bluetooth characteristics, and low energy Bluetooth is even more integrated. A new growth peak is ushered in the voice of doubt. Unconsciously, more than billions of Bluetooth devices have been integrated into our daily lives, especially in buildings, industries, homes, cities, and medical care. Today, I will focus on the application of Bluetooth in the field of medical monitoring and the major changes brought about by Bluetooth gateways for remote medical consultations.

The application of Bluetooth low energy in medical equipment far exceeds our cognition. Whether it is professional medical equipment or home medical equipment, we can find a version with Bluetooth, Bluetooth thermometer, Bluetooth body temperature sticker, Bluetooth heart rate Straps, Bluetooth blood pressure monitors, Bluetooth blood oximeters, Bluetooth heart rate bracelets, Bluetooth ECG devices, etc. How to adapt to different product protocols, combine these various types of BLE medical products with different functions into a medical sensor ecosystem, form the key force to transform existing medical technology, and realize remote medical consultation and physical sign data collection. A breakthrough sought by many medical solution providers.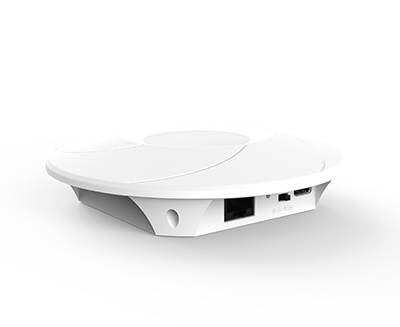 We can imagine that a patient lying in a hospital bed only needs to wear a portable physical sign monitoring device. The Bluetooth gateway continuously collects physical sign data and can be directly transmitted to the data center for analysis and early warning; patients at home only need to wear heart rate, blood pressure, With blood oxygen monitoring equipment, data can be collected directly to help doctors analyze their physical conditions more accurately; elderly people in nursing homes only need to wear a physical sign monitoring bracelet to monitor their health in real time.....Under our existing conditions , This can undoubtedly greatly ease the pressure of hospital visits, and also provide more efficient solutions for areas with poor medical conditions.

A Bluetooth gateway is a gateway device that can communicate with two or more BLE devices and transmit data to the Internet or a local controller through Ethernet, WIFI, 4G, RS485, RS232 and other interfaces. The EW-DTU series of general-purpose Bluetooth gateways released by R&D Communications are undoubtedly a divine assist in forming a complete medical IoT ecosystem.

The biggest advantage of the universal Bluetooth gateway released by BLM World Limited is that it is different from other Bluetooth gateways. It can adapt to the communication protocol of BLE devices of different brands to the greatest extent, and reduce the large-scale deployment of Bluetooth IoT with a very high cost performance. cost.

BLM-DTU series universal Bluetooth gateway provides custom connection mode and hosting mode

In the custom connection mode, using the Json command set supporting the Bluetooth gateway, the system integrator can remotely issue control commands to the gateway according to the protocol of different BLE devices, which facilitates the development of custom connection control logic suitable for different scenarios in the background.

In the hosting mode, you only need to simply configure the connection rules, which greatly simplifies the logic development of the background. The Bluetooth gateway can automatically connect to the specified BLE device without background intervention, which is more conducive to scenarios where custom business requirements are not high.

The BLM-DTU series universal Bluetooth gateway supports simultaneous connection of up to 40 BLE devices and real-time two-way communication. The embedded PA chip greatly expands the Bluetooth communication distance. It can reach 300 meters or even 1 km in open and unobstructed scenes (BLE 5.0 ).

In addition, the BLM-DTU series Bluetooth gateway also provides powerful scanning performance. In the non-connected mode, it can collect broadcast data from 300 BLE terminals at the same time, and can choose a variety of data formats for easy analysis, and supports access to the Alibaba Cloud MQTT suite. . In a multi-gateway deployment scenario, seamless roaming can also be easily achieved. BLM-DTU series Bluetooth gateways can also provide RSSI with broadcast channel identification to improve the positioning accuracy of the BLE device location.

BLM World Limited, a solution provider focusing on low-power Bluetooth IoT communication technology, has developed a variety of Bluetooth gateway products based on years of Bluetooth bottom layer and linux system application development experience.

The goal of BLM World Limited is to make the Bluetooth connection easier, which will provide more powerful technical support for the further development of the medical Internet of Things in the future. Only by breaking the barriers of large-scale access of Bluetooth devices to the network and reducing repeated investment in the integration of the program, the Bluetooth medical IoT ecosystem will be formed as soon as possible. At present, BLM World Limited's Bluetooth gateway has played a huge role in practical applications in hospital scenarios such as patient positioning, heart rate monitoring, body temperature monitoring, and infusion monitoring.