Top 10 Chinese brand bluetooth chips that engineers favorite
According to "2021 Bluetooth Market Update" report by the Bluetooth SIG, the market growth forecast for Bluetooth devices is as follows:
It is estimated that the annual shipments of Bluetooth devices will exceed 6 billion by 2025
Between 2021 and 2025, LE Audio technology will drive the annual shipment of Bluetooth audio transmission equipment to increase by 1.5 times
Annual shipments of wearable devices and PC accessories will increase significantly
The growth of Bluetooth location services is expected to rebound before the end of 2021 and achieve a compound annual growth rate of 32% by 2025
In 2029, Bluetooth commercial interconnected lighting will generate 19.1 billion US dollars in revenue worldwide.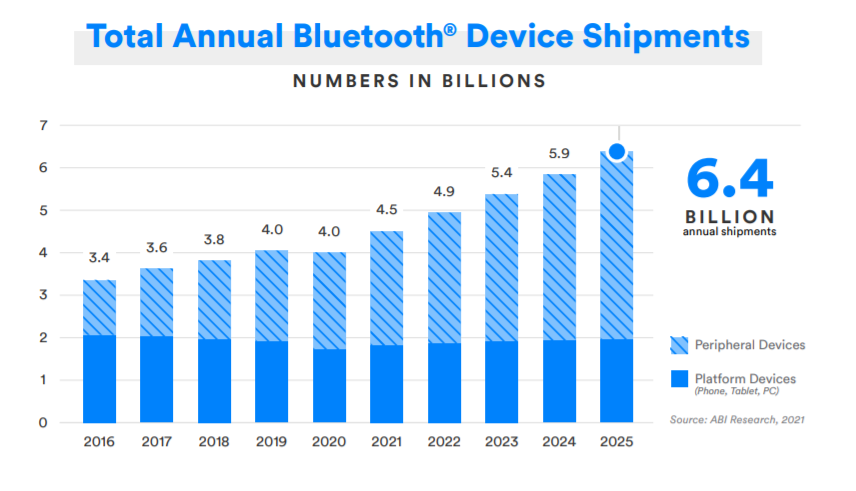 From 2021 to 2025, the compound annual growth rate of Bluetooth device shipments will reach 10%. From now to 2025, the market's strong demand for interconnection and positioning solutions will accelerate the growth of global Bluetooth device shipments. Market growth continues to shift to peripheral devices (earphones, wearable devices, sensors, smart lights, etc.), and its shipments have more than doubled the shipments of platform devices, and will exceed three times that of platform devices by 2025. Peripheral devices will account for 70% of Bluetooth device shipments in 2025.
From Bluetooth direction finding function to LE Audio, low energy Bluetooth can support a variety of new functions, so it is applied to all platform devices. With the popularization of Bluetooth low energy in mobile phones, tablets and PCs, it is estimated that 96% of Bluetooth devices will include Bluetooth low energy by 2025.
Bluetooth technology has expanded from the initial audio transmission to low-power data transmission. At present, Bluetooth technology can meet the demand for location services and reliable large-scale device network solutions.
Following as top 10 most popular Bluetooth devices and application categories according to the four major Bluetooth applications (audio transmission, data transmission, location service, device network).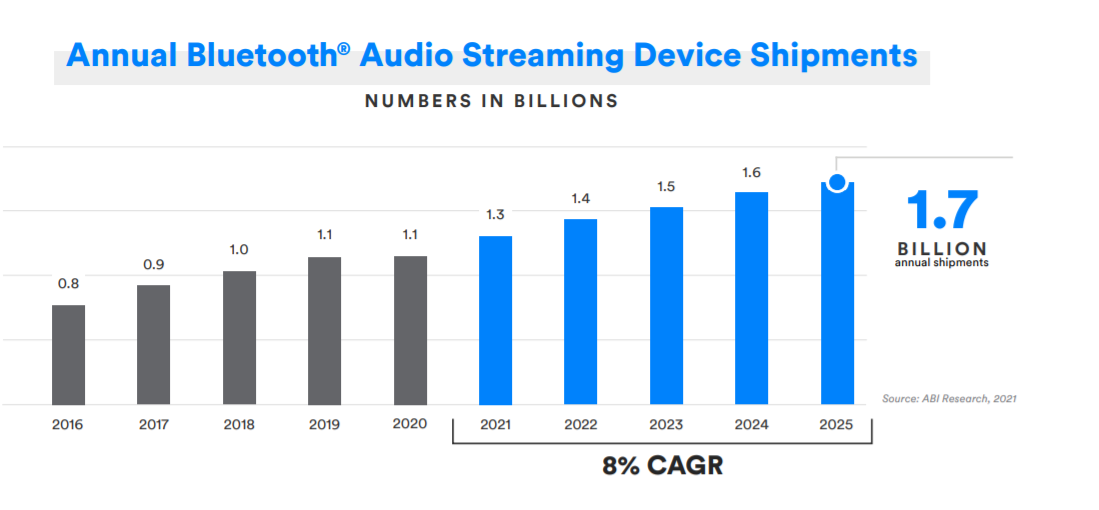 As the demand for wireless earphones and speakers keep rising, the annual shipments of Bluetooth audio streaming devices will be higher than other Bluetooth devices. In 2021, the annual shipment of Bluetooth audio device will reach 1.3 billion, and it will reach 1.7 billion in 2025, with a compound annual growth rate of 8%.
In 2020, the shipment of Bluetooth TWS headsets will reach 152 million, and it is expected to climb to 521 million by 2025. Wireless headsets, including TWS headsets, are leading the category of audio device. In 2021, the total shipments of Bluetooth headsets will reach 633 million.
TVs increasingly rely on Bluetooth connectivity to provide high-quality home audio and entertainment experiences. The shipment of Bluetooth TV will reach 103 million in 2021, and it is expected to reach 150 million by 2025.
Currently, 94% of speakers use Bluetooth technology. The shipment of Bluetooth speakers this year will approach 350 million, and it is expected to increase to 423 million by 2025.
LE Audio will enhance the performance of Bluetooth audio, increase support for Bluetooth hearing aids, and add the innovative application of Bluetooth Audio Sharing. With a new low-power and high-quality audio codec and support for multiple streaming audio, LE Audio is expected to further increase the shipment of Bluetooth in-ear headphones and accelerate the popularity of Bluetooth hearing aid devices. It is estimated that by 2024, the annual shipments of Bluetooth hearing aid devices will exceed 92 million.
6 Chinese brands Bluetooth chip for TWS earphone:
Bestechnic BES2300
Jieli AC693N
Bluetrum AB5377T
Airoha AB1536
REALTEK RTL8773B
PXI PAU1600
BES2300 is a smart Bluetooth audio chip, using 28nm process and BGA package. It integrates RF, PMU, CODEC, high-performance CPU and embedded voice AI on a single chip, it can support intelligent voice and hybrid active noise reduction. This fully integrated adaptive active noise reduction solution supports Bluetooth 5.0 dual-mode, LBRT low-frequency forwarding technology, and the third-generation FWS full wireless stereo technology, dual microphones, etc. In addition, it also supports external heart rate sensors, acceleration sensors and eMMC flash memory, and can play music on external storage devices.
AC693N supports Bluetooth audio 5.0+BLE 5.0. Features as follows:
Master-slave switching, smart charging compartment, ultra-small package, lossless music, ultra-low power consumption, MESH networking, convenient configuration tools, High integration and very few peripheral materials. Default functions include: bilateral calls, AI intelligence, Gensor tapping, analog and digital silicon mark, smart loopback, HIFI sound quality, OTA upgrade, built-in charging management and constant current and constant voltage.
AB5377T is a Bluetooth 5.0 TWS headset master chip with built-in Flash. Its features as follows: 32-bit high-performance CPU with DSP function, flexible GPIO pin configuration; compatible with Bluetooth 5.0 and BLE specifications (QDID: 115952); Audio CODEC of 16-bit mono DAC and 16-bit mono ADC; adopt SOP16 package.
AB1536 is a Bluetooth 5.0 dual-mode single-chip solution, supporting HD Audio and Airoha's new TWS MCSync technology. AB1536 provides excellent audio performance, crystal sound and advanced sound quality in most Bluetooth audio headset applications. A new generation of echo cancellation and noise reduction solutions improves the audio quality of voice calls on headset products. The chip uses Tensilica HiFi EP processor core, is configured with embedded 32Mb flash memory, and a capacitive touch sensor controller with power control mode. The supported interfaces include SPI, UART, I2C, I2S, USB devices, SDIO, AMIC and DMIC. Supports Bluetooth 5.0 dual-mode, including low energy consumption specifications that comply with the A2DP specification version 1.3. Its sound features include 24-bit 96KHz high-definition audio, noise reduction and echo cancellation, multi-band programmable equalizer and dynamic range control, packet loss concealment, and wideband voice and custom voice prompts.
RTL8773B is a Bluetooth 5 dual-mode active noise reduction audio chip, suitable for Bluetooth smart headset solutions. In addition to supporting the latest Bluetooth specifications, it also supports Hybrid ANC active noise reduction architecture, which has the advantage of ultra-low power consumption for listening and calling, and can achieve personalized high-definition sound quality. It supports digital reverberation ANC with a noise reduction effect of up to 40Db; when the Hybrid ANC is turned on, the power consumption is less than 1Ma; it supports on-the-fly and seamless master-slave switching in the charging box, and only needs to pair two headphones once to be seamless Switch.
PAU1600 series Bluetooth chip conforms to the Bluetooth version 5.0 specification and is an EDR/BLE dual-mode stereo audio single chip solution. It uses QFN-40 5x5mm package and is designed for small Bluetooth wireless stereo headsets. Its unique GreenRadio patented technology can support binaural direct connection, non-master-slave sharing mode, fast role exchange, ultra-low latency, low radiation, low power consumption, anti-interference and other features. Its high-quality audio function supports SBC/m SBC, AAC, 10 -band EQ adjustment, and dual microphone noise cancellation. In addition, it also has built-in lithium battery charging management, 5-400mA software adjustable.
Bluetooth chip for Wired earphone:
Beken BK3288
Bestechnic BES2000
MVSILICON BP1048B2
BK3288 is a 28 nm process, high-performance dual-core, low-power Bluetooth 5.0 dual-mode audio chip. Its characteristics are as follows: 1. -94 dBm RF receiving sensitivity, 10 dBm transmit power; 2. Dedicated audio DSP, supporting floating point 16bit*16bit multiply-add operation capability with 1 G times per second; 3. Very low standby and working power consumption, A2DP power consumption in Bluetooth headset mode is less than 4 mA; 4. Support 2.4 GHz private protocol, 2Mbps rate and long packet Mode, supports low-latency private audio solutions; 5.96 dB audio ADC and 102 dB audio DAC, sampling rate 8 kHz ~ 384 kHz; 6. Microsecond ADC and DAC delay support broadband active noise reduction; 7. The single chip also supports active noise reduction, array microphone noise reduction, acoustic echo cancellation and artificial intelligence voice assistant CU control interface.
BES2000 series adopts a 40nm process, a single chip integrates RF, PMU, CODEC, and CPU; it supports feedforward or feedback active noise reduction. The chip supports Bluetooth 4.2 version, built-in 80MIPS high-speed DSP, strong voice recognition capabilities; supports Bluetooth protocols including HFP, A2DP, RCP, SPP, GATT and other protocols, and can cooperate with mobile phone APP to achieve audio source selection, mode selection, EQ adjustment and scheduled shutdown And other functions, two devices cooperate to achieve wireless 2.0 channel, and two devices are associated with buttons at the same time; it supports UART serial communication and is controlled by MCU. High-end headset applications with higher added value and stronger performance can be developed.
BP1048B2 supports Bluetooth 5.0 dual mode, compatible with Bluetooth V4.2 and V2.1+EDR. It uses a high-performance 32-bit RISC core with a maximum frequency of 288MHz; supports DSP/FPU/FFT accelerators; integrates 320KB SRAM, 32KB I-Cache, 32KB D-Cache; built-in 16Mbit code and data FLASH; built-in one-time burning memory can be saved User password; 4 channels 16bit Audio-ADC, 3 channels 24bit DAC; ADC/DAC sampling rate supports 8/ 11.025 / 12/16 / 22.05 / 24/32 / 44.1/ 48KHz; I2S x2, S/PDIF, supports HDMI audio and ARC.
Chips for Bluetooth speaker application:
Action ATS2835
Biuldwin CW6690G
Lenzetech AC8976A8
ATS2835 supports Bluetooth 5.0 dual-mode (Classic Bluetooth/Bluetooth Low Energy), app/apk, TWS, local playback and multi-segment PEQ and DRC sound adjustment; some products support Audio Broadcast, Multi point, Hi-res, special sound adjustment and Low latency mode. Among them, the Audio Broadcast application supports the combined playback of hundreds of speakers, with a distance of up to tens of meters. The Bluetooth transmission delay in low-latency mode can be effectively reduced to 50ms or less.
CW6690G is a HIFI high-end Bluetooth audio master chip. Built-in high-performance DSP and dual-mode Bluetooth, using 32bit RISC CPU + DSP flexible and efficient architecture. Integrated high-fidelity HIFI quality full-format decoding and stereo analog-digital conversion circuit, as well as high-performance audio digital processing capabilities. It is widely used in various high-end audio equipment products.
AC8976A8 is equipped with ARM Cortex-M0 32-bit single-core processor, with 8MB system flash memory, and supports general multi-protocol SoC, Bluetooth 5.1+BR+EDR+BLE protocol. With 20-segment sound effects adjustable, support ANC active noise reduction, support MP2, MP3, WMA, APE, FLAC, AAC, MP4, M4A, WAV, AIF, AIFC audio formats, highly integrated, cost-effective, low-power Bluetooth SoC.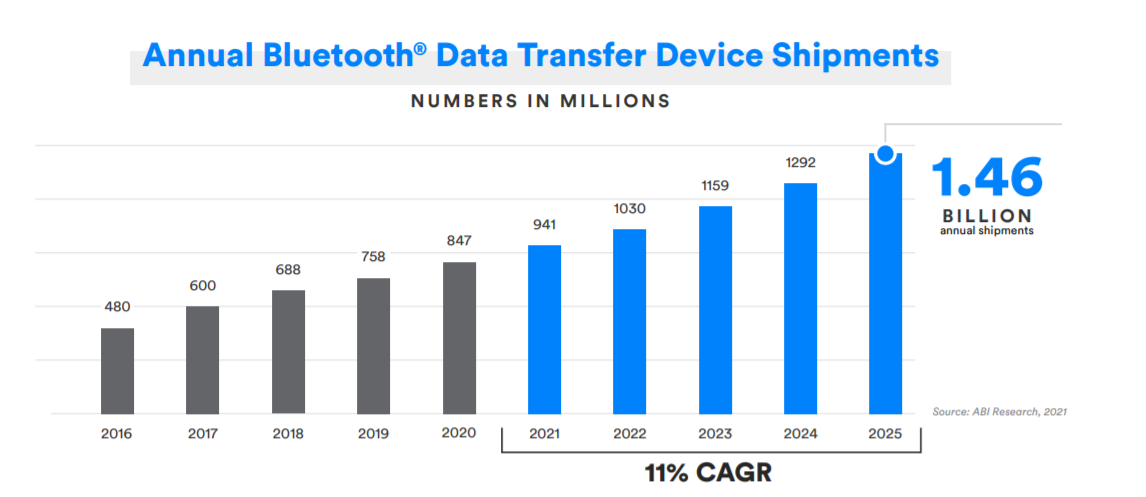 The application of Bluetooth technology in IoT devices surpasses all other technologies and has become the preferred technology for the Internet of Things. In 2021, 13 billion Bluetooth IoT devices will be put into use. By 2025, the annual shipment of Bluetooth data transmission equipment will increase by 1.7 times to 1.46 billion, with a five-year compound growth rate of 11%.
In 2021, the shipment of Bluetooth remote control devices will reach 242 million. It is estimated that in 2025, the shipment of original remote controls for TVs, fans, speakers, cameras and other devices will reach 350 million, which will become the largest device category in the Bluetooth data transmission application field.
According to statistics, the shipment of Bluetooth computer accessories will increase sharply in 2020 due to the epidemic, reaching 153 million, and this year will reach 168 million.
In 2021, shipments of Bluetooth wearable devices for sports, fitness and medical applications will reach 205 million. In 2025, the annual shipment of Bluetooth smart watches will reach 156 million, and the annual shipment of Bluetooth fitness and health trackers will reach 100 million.
Bluetooth chips in PC accessories:
YICHIP YC1021
WCH CH9143
YC1021 is a low-power, high-performance, highly integrated Bluetooth (3.0 BR/EDR + BLE + 2.4G) three-mode solution. Its working frequency band is 2400MHz to 2483.5MHz. YC1021 adopts advanced 55nm CMOS manufacturing process, with high integration, low power consumption and low leakage current, which simplifies the overall system design while reducing costs. It includes an 8-channel ADC, power-on reset (POR), algorithm accelerator, USB2.0, ISO7816, UART/SPI/I2C, 3-axis q-decoder and up to 32 GPIOs. YC1021 has a power supply range of 1.8 to 5.5V. Excellent low power consumption performance in TX and RX modes. It can enter the ultra-low power Hibernate mode while saving registers and memory data, and the low-power oscillator and sleep timer are also working.
CH9143 is a BLE/UART/USB three-way chip, which realizes data exchange between Bluetooth, USB interface and serial interface. Bluetooth supports master mode, slave mode and master-slave integrated mode. In slave mode and master-slave integrated mode, Bluetooth communication and parameters can be configured, and it supports BLE4.2. The serial port supports AT command configuration, supports MODEM communication signal, the highest baud rate is 1Mbps. At the same time, it can realize online debugging or data monitoring between the computer's USB interface, serial port and Bluetooth.
Bluetooth chip in wearable device:
Freqchip FR508X
BlueX BX2418
Hoperf CMT4502
The characteristics of the FR508X Bluetooth chip are as follows: BT5.1 BLE+EDR protocol certification; CortexM3 48MHz+ HIFI3 DSP156MHz dual-core design; 96KB+416KB RAM; built-in power management module PMU (charging current maximum 200mA); 16Bits audio Codec (DAC SNR 96dB, ADC SNR 84dB); The external interface has GPIO, UART*2, SPI*3, QSPI*2, I2C*2, I2S*1, SARADC; BR keeps connected for 500ms, Sniff average current <70uA; BLE keeps connected average current <40uA.
BX2418 is BLE 5.0 module, supports 1Mbps/2Mbps rate switching, and supports SIG Mesh, which meets testing standards such as BQB/SRRC/FCC/CE. Its built-in MCU has 4 buffers, SWD debugging interface, and the AHB/APB bus clock rate is up to 96MHz. It has 14 GPIOs, 5 PWM outputs, and 2 10-bit ADCs.
CMT4502 is an ultra-low-power Internet of Things Bluetooth wireless communication chip, equipped with a 32-bit ARM Cortex-M0 processor core, equipped with 138KSRAM/Retention SRAM, with ultra-low power consumption, high performance and wireless multi-mode features, supporting security BLE function of, application and wireless update. CMT4502 supports BLE5.0 high-speed data throughput, including BLE 2Mbps protocol and length extension function; supports multiple features of Bluetooth Sig-Mesh protocol: Friend/LowPower/ProxyRelay node, which can provide BLE5.0 complete protocol function.
Bluetooth remote control device chips:
Panchip PAN1020
Lenzetech ST17H65
Action ATB1103L/ATB1109
PAN1020 uses 2.4GHz radio frequency transceiver (compatible with BLE4.2); receiving sensitivity is -90dBm@1Mbps; maximum received signal is 0dBm; programmable transmit output power is up to 13dBm, generally 8dBm; single-wire antenna does not require RF matching or RX /TX switch; MCU core running speed up to 52MHz; supports serial wire debug (SWD) interface and two observation points/four breakpoints.
ST17H65 supports Bluetooth5.2, Bluetooth LE, SIG MESH. It is equipped with an ARM Cortex-M0 32-bit single-core processor, 512KB system flash memory, and supports general multi-protocol SoC, Bluetooth LE 2Mbps protocol. It has 22 programmable GPIO pins, built-in 64KB SRAM, supports PWM/DMA/PDM/I2C/SPI/UART and other interfaces to meet the functional requirements of various IoT products.
ATB1103L/ATB1109 is an ultra-low power consumption, highly integrated BLE MCU chip. In addition to supporting Bluetooth data transmission and MESH networking functions, it has rich peripheral interfaces (IIS IN/OUT, 3*UART, 3* SPI, 2*TWI, 5*PWM), this series of products also added special functions such as IR (Infrared Radiation) and Voice over BLE. This highly integrated low-power Bluetooth solution is mainly used in Bluetooth voice remote controls, voice mice, voice keyboards, translation sticks, phonograph toys, Bluetooth digital products (such as fingerprint locks, smart medicine boxes, cold chain logistics) , Car atomization disinfection, foam washing mobile phones, power tools, etc.).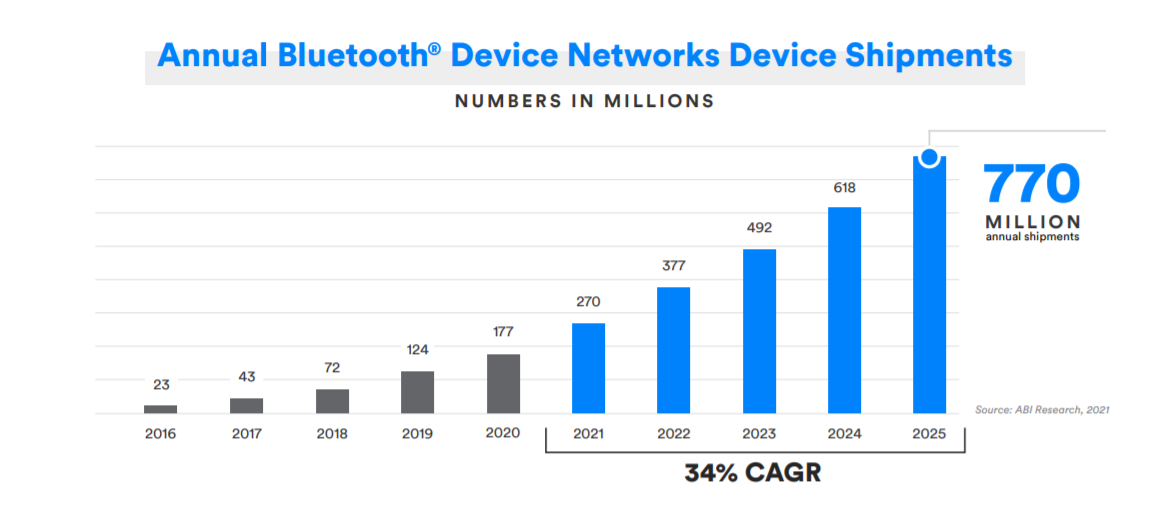 Smart home and commercial lighting use cases are growing rapidly, which will drive equipment network equipment to achieve a predicted compound annual growth rate of 34% in the next five years. The shipment of Bluetooth devices and network devices will reach 270 million in 2021, and will increase to 770 million in 2025.
In 2021, the shipment of Bluetooth smart home automation equipment will reach 222 million. By 2025, the annual shipment of smart home automation equipment will increase by three times, and it will increase to 670 million in just five years. The main devices driving this growth include smart home automation controllers, smart lighting and smart home appliances.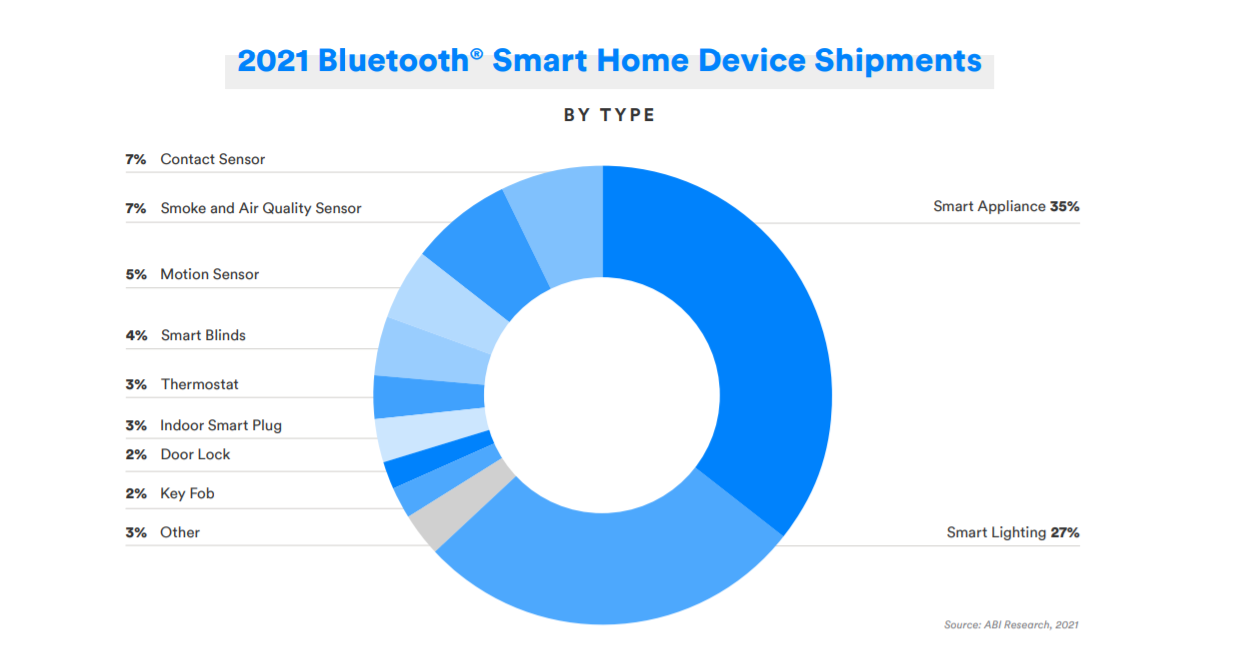 Bluetooth chips for smart home appliances:
Espressif ESP32-C3
Winner Micro W800
ESP32-C3 is a safe, stable, low-power, low-cost IoT chip, equipped with a RISC-V 32-bit single-core processor, supporting 2.4 GHz Wi-Fi and Bluetooth 5 (LE). This series of chips is a very low-power, highly integrated MCU system-on-chip (SoC), integrated 2.4 GHz Wi-Fi and low-power Bluetooth (Bluetooth® LE) dual-mode wireless communication, with: complete Wi-Fi sub The system conforms to the IEEE 802.11b/g/n protocol, with Station mode, SoftAP mode, SoftAP + Station mode and Promiscuous mode (Promiscuous mode, which is a special mode); Bluetooth low energy subsystem, supports Bluetooth 5 and Bluetooth mesh; industry-leading low-power performance and radio frequency performance; RISC-V 32-bit single-core processor, four-stage pipeline architecture, clocked at 160 MHz; built-in 400 KB SRAM (16 KB dedicated to cache), 384 KB ROM Storage space, and support multiple external SPI, Dual SPI, Quad SPI, QPI flash; perfect security mechanism-hardware encryption accelerator supports AES-128/256, Hash, RSA, HMAC, digital signature and secure boot; rich communication interface And GPIO pins can support multiple scenarios and complex applications.
W800 chip is a secure IoT Wi-Fi/Bluetooth dual-mode SoC chip. Support 2.4G IEEE802.11b/g/n Wi-Fi communication protocol; support BT/BLE dual-mode working mode, support BT/BLE4.2 protocol. The chip integrates a 32-bit CPU processor, built-in UART, GPIO, SPI, I2C, I2S, 7816 and other digital interfaces; supports TEE security engine, supports multiple hardware encryption and decryption algorithms, built-in DSP, floating-point arithmetic unit, and supports code security permission settings , Built-in 2MBFlash memory, supports multiple security measures such as firmware encrypted storage, firmware signature, security debugging, security upgrade, etc., to ensure product security features. It is suitable for a wide range of IoT fields such as smart home appliances, smart homes, smart toys, wireless audio and video, industrial control, and medical monitoring.
Bluetooth chips in smart lighting:
Macrogiga MG1751
PHY+ PHY6202
Telink TLSR8269
MG1751 is a compact BLE transparent transmission chip that supports broadcast/transparent transmission, long packet data and AES encryption, and conforms to the BLE5.0 core specification. Suitable for light control, transparent transmission and other applications.
PHY6202 is an ultra-low power chip with powerful performance and high flexibility. At the same time, it supports multiple communication protocols such as Bluetooth Low Energy, Bluetooth 5.0, Bluetooth MESH, ZigBee, Google Thread, Mist, etc., for applications such as smart terminal peripherals, smart voice, smart home, smart manufacturing, and smart transportation. PHY6202 uses 32-bit ARM Cortex-M0 core, with 128K ROM, 138K SRAM, and 256/512KFlash. Its built-in 2.4GHz wireless transceiver supports Bluetooth Low Energy (BLE), ANT and private 2.4GHz protocol stack. PHY6202 can operate as a standalone system or as a slave device of the host MCU, providing Bluetooth functionality through the I2C/UART interface.
All-in-1 chip TLSR8269 integrates radio frequency, digital signal processing, protocol stack software and multiple profiles on a single chip, and supports Bluetooth Smart, BLE Mesh, 6LoWPAN, Thread, Zigbee, RF4CE, HomeKit and 2.4GHz proprietary standards. The 512KB FLASH integrated in the TLSR8269 meets all built-in requirements, and the terminal product functions can be configured through software. In addition, the chip can withstand high temperatures up to 125 degrees Celsius, which is particularly suitable for use in the field of LED lighting.